Frequently Asked Questions
WHAT TO EXPECT
---
People of all shapes, sizes and abilities

A fun, welcoming and relaxed atmosphere.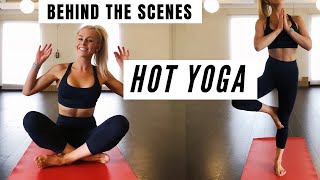 ---
HOW TO PREPARE
---
PLAN IN ADVANCE
Beginning yoga students generally have a better experience when they plan 24 hours in advance
This allows ample time for proper hydration and nutrition
COME TO CLASS WELL HYDRATED
Drink plenty of water throughout the 24 hours leading up to class (approx. 3 liters.) Good hydration makes the heat more comfortable
It is also a mandatory safety precaution for first time students
COME TO CLASS ON AN EMPTY STOMACH
Have large meals 3-4 hours before class
Lite snacks are okay 2 hours before class
Yoga feels best without too much food in your stomach
ARRIVE EARLY
Get to the studio 20-30 minutes before class begins (

this allows plenty of time for registration and orientation

)
ESSENTIALS
You'll need a yoga mat, towel and bottle of water
If you forget or do not have these we have all for rent/purchase
POSITIVE AND OPEN ATTITUDE
A positive outlook does wonders for your yoga practice. As a newcomer you have the advantage of an unbiased eager perspective.
---
WHEN YOU ARRIVE
---
The studio will be open 30 minutes prior to and close 30 minutes after each class.
First time students must arrive at least 15 minutes prior to class for orientation – this includes visiting Hot Yoga students, regardless of experience.

All other students please arrive prepared for class 10 minutes early to sign in and allow your body to adjust to the heat.

All new students must read and sign a waiver-release form before admittance.
CLASS CARDS ARE NON-REFUNDABLE, NON-TRANSFERABLE, AND NON-EXTENDABLE. THEY CANNOT BE SHARED.
Please leave your shoes in the changing room. Shoes are not permitted in the hot room.
Please inform the front desk staff of any injuries that may prevent you from executing the poses fully so that s/he can let the instructor know.
Please be on time. Latecomers will not be allowed to enter the hot room once class has begun.
---
IN THE HOT ROOM (Studio)
---
DURING THE CLASS
Please do not bring your bags or extra clothes into the yoga room.
Lockers are available for daytime use.
Please be silent in the yoga room.
Please, no cell phones or chewing gum allowed in the yoga room
Please turn cell phones off when entering the studio.
Please refrain from wearing perfume, cologne, or strongly scented products in class.
All students must use a mat and towel.
Please do not walk through class during postures.
Please try to remain in class the entire class. This is for your benefit, as well as for the other students in class. If you must leave, please do so quietly
AFTER THE CLASS
Always leave the yoga room quietly and allow your fellow students to enjoy their final relaxation (Savasana) at the end of class.
Please place all Hot Yoga towels and mats in the laundry baskets in the showers.
Please use the recycle bins for all plastic bottles.
Be courteous to each other–keep shower time under 3 minutes.
Please do not leave your belongings behind. Lost and found is donated on the 1st and 15th of each month.
---
CLASS DESCRIPTION
---
Hot Yoga classes are for Vinyasa or Bikram Yoga in a room that is heated. The heat helps to improve your flexibility and your lung capacity. It also provides you with an aerobic workout that gets your heart pumping. The classes are not easy and you can take and knee to rest anytime that you wish or in need. It takes time to adjust to the heat and the postures. However, the physical and mental benefits that come with consistent practice are well worth the effort. If you set an intention to bring your personal best to the hot room there is no limit to what you can accomplish.
---
WHAT YOU STAND TO WIN & GAIN
---
A consistent Hot Yoga practice can do amazing things for your body including:
Weight loss
Detoxification (specific)
Increased lung capacity
Toned muscles
Increased flexibility
Improved sleep patterns
The benefits also extend beyond the hot room including:
Peace of mind
A greater sense of balance
Increased confidence
---
CONSIDERATION
---
Consider the rules of Hot Yoga as they relate to your physical condition. This kind of yoga may not be suitable for people of certain medical conditions. The elderly should participate with caution and pregnant women should consult a physician prior to adopting this routine. Watch for signs of dehydration such as nausea, lightheadedness and dizziness. If you do attend class and begin to feel unwell, alert the instructor, follow your instincts and remove yourself to a more comfortable environment.
---
---